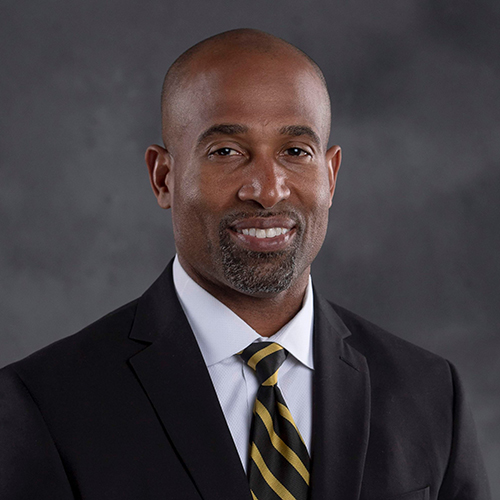 A native of Louisiana, Mr. Robinson was born and raised in New Orleans. He attended Brother Martin High School, graduating in 1988. He was a scholar-athlete during this time. He furthered his education attending Alabama State University on an academic scholarship. He earned a Bachelor's of Science Degree in Chemistry in 1994.
Mr. Robinson lettered in football all four years and earned All-SWAC, SWAC Defensive Player of the Year and All-America honors as a linebacker for the Hornets. He was also recognized nationally receiving the Toyota Leadership Award as a senior and was the Houston Oilers' second round pick in the 1992 NFL draft, the 50th player selected.
Mr. Robinson was a stalwart in the community and for his teams during his 11-year NFL career. He played with the Houston Oilers, Jacksonville Jaguars, Tennessee Titans and Buffalo Bills. He was named NFL Unsung Hero for the Tennessee Titans in 2001 and appeared in Super Bowl XXXIV with the Titans in 2000.
Mr. Robinson retired from the NFL following the 2002 season and entered the business world. He is currently the owner/manager of Magnolia River LLC Real Estate Investment Company. Over the last 10 plus years, he has managed real estate investments in Atlanta and his home town of New Orleans, LA.
He was a college football analyst for ESPNU, ESPN3 and Comcast Sports South from 2008 until 2014. In addition he was a co-host on a regionally televised weekly sports television show INSIDE SWAC from 2006 to 2009.
Mr. Robinson is deeply involved in community service. He regularly speaks to high school students and young athletes for school and athletic programs. He is an NFL Ambassador for USA Football helping to promote the game of football to parents and young football players. Mr. Robinson is also the manager of a 12U select baseball team in Houston, TX. He volunteers his time with the Houston school districts Real Men Read program, reading to elementary school kids and sharing his keys to success.
He annually awarded $2,000.00 dollar scholarships to four area high school seniors in Houston and Jacksonville when he played in those cities. He also hosted a Football and Academic Achievement Camp in conjunction with Texas Southern University while playing for the Houston Oilers. Mr. Robinson was also the co-host of a yearly youth football camp at Alabama St University in Montgomery, AL.
Eddie Robinson is a life member of Omega Psi Phi Fraternity and resides in Houston, TX. He is the proud father of three boys ages 19, 17 and 14 who all participate in junior high, high school and college athletics.