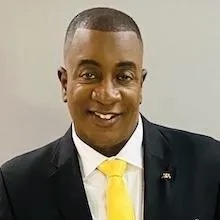 Global Scholar Practitioner, Florida Memorial University;
Commissioner, HBCU esports League/Collegiate StarLeague
Dr. Marc Williams is a sports marketing pioneer, renowned scholar, social commentator and pop culture expert. Over the past 26 years, he has held senior leadership positions at three of the largest sports brands in the world: Champs Sports, Footaction and Reebok. While at Champs Sports, he helped it become a $1 billion brand. He was recently named as one of the Top 100 Influential Blacks in the World today by CORE Magazine. Dr. Williams is considered one of the top educators in Sports Marketing, Entrepreneurship and Esports curriculum in America.
As a pioneer in the sports retail industry, Williams is credited with signing the first hip hop artist— Grammy-Award-winning hip hop music legend Eve —with a sports retail apparel deal during his tenure at athletic retailer Footaction. He also negotiated the first product placement deal with a video game publisher, Activision/Blizzard, in its 2003 award-winning "Street Hoops" arcade basketball game. He was one of the creators of "The AND1 Mix Tape Tour" and a principal negotiator on the Jay Z and 50 Cent Reebok sneaker deal for sports retailer Footlocker, Inc. He has done product placement for one hundred music videos, seventy-five feature films; including Oscar Award winning film Sideways and 70 videogames, including Tony Hawk, Tiger Woods Golf, Arena Football and Madden. Marc also led a team that created College Football's Champs Sports Bowl that featured teams in the ACC and the Big East and the monumental $20 Million deal with the Arena Football League and NBC Television.
Academia
Dr. Williams was the Professional in Residence at Harvard University, the Hearst Visiting Professor at the prestigious College of Communications and Journalism at the University of Florida and the Provost Visiting Professor at the University of Houston. He has lectured and taught at some of the top institutions in America; Dartmouth College, Stanford University, Columbia University and the University of Arizona. He published over twenty-five articles, including in Global Oncology with the Harvard Global Health Catalyst Summit titled "Global Oncology Outreach: cancer prevention and outreach." He is also the author of two books: Defeating Cancer: A Holistic Approach to Living an Empowered Life and The Art of Networking.
He is the co-founder of one of the first Esports and Business programs in America at Saint Peters University. He has written Esports Education curriculum for seventeen American Universities and featured in a special edition in the Chronicle of Higher Education and Diverse Issues in Higher Education about the impact of covid, enrollment management and Esports curriculum in higher education.
Student Athlete Development
Dr. Williams is one of the nation's experts on student-athlete development. The title of his dissertation was: "A descriptive study of NCAA Lifeskills programs in the Big Ten Conference." Williams visited over five hundred college campuses in his career, speaking to more than 300,000 student athletes. He has spoken to student athletes at some the nations leading Athletic programs in America: University of Oregon, University of Nebraska, University of Tennessee, Auburn University, Notre Dame and Clemson University. His award-winning "Striving for Excellence" Life Skills Academy for student athletes has been implemented at 27 NCAA Division 1 college athletic departments. He has mentored elite Student Athletes in College Athletics such as: Heisman Trophy Winner, Cam Newton, ESPN Espy Athlete of the Year winner; Taryne Mowatt and Seattle Seahawks All-Pro veteran Tyler Lockett.
Pop Culture
Dr. Williams' LinkedIn profile has more than 63,000 followers and his posts attract more than ten million views each month. He is a LinkedIn Power Content Creator and the host of his own podcast; "Dr. Marc's Masterclass Podcast" on MAP Esports Podcast Network—the largest Esports Podcast Network in the world. He also is the co-founder of the first HBCU esports league, "The HBCU Esports Alliance (HEA)—consists of 40 HBCU Schools and prepares students for careers in the Videogame and Esports industries.
During his career he has worked with various sports and entertainment stars, such as Michael Jordan, Beyoncé, Magic Johnson, Aaliyah, Venus Williams, Allen Iverson, Maroon 5 and Will Farrell. Dr. Williams was the number 2 story of 2020 by The Esports Observer. Dr. Williams has appeared on the cover of Billboard Magazine, The Network Journal and named Black Men's Magazine Man of the Year. He has also been featured on CBS Evening News, BBC World News, ESPN, BET and Sports Illustrated.
Notable Keynote Speeches
The Whitehouse HBCU Conference
Harvard University Global Health Catalyst Summit
Africa International Sports Convention in Kigali, Rwanda
Esports Venue Summit Conference at the Twickenham Stadium, London
Digital Games Conference, Dubai
The Africa Games and Esports Career Expo, Johannesburg South Africa
Association of California Community College Administrators (ACCCA) Conference
Alabama Association of International Educators State Conference
Awards
Presidential Fellowship, West Virginia University
Top 25 Black Educators in Miami, Legacy Magazine and Miami Herald
Man of the Year, Black Men Magazine
Top 25 Inspirational Speakers In America, CNN
Top 40 Under 40, The Network Journal
Hip Hop Legend Honoree, Hip Hop Hall of Fame Museum
Education
PhD in Curriculum and Instruction, West Virginia University College of Education, Morgantown, West Virginia, 2015
Masters in Sport Management and MBA from the Isenberg School of Business, University of Massachusetts at Amherst, Amherst, Massachusetts, 1999
BS in Sociology with a concentration in Marketing, William Paterson University, Wayne, New Jersey, 1997