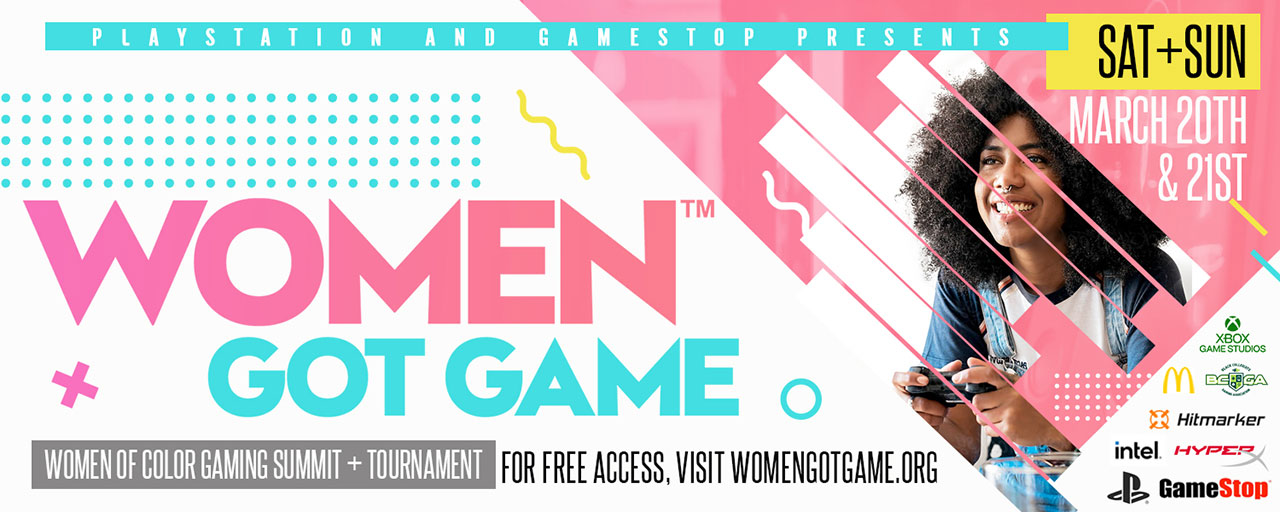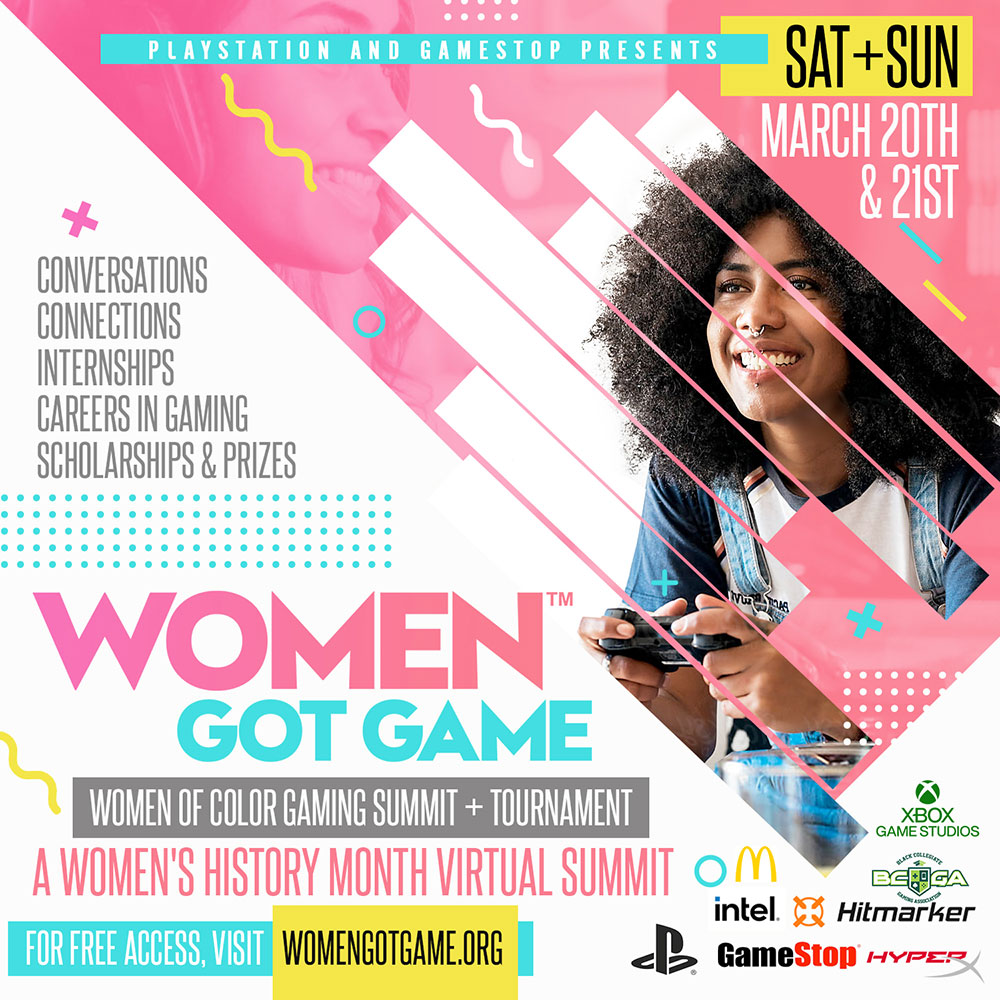 Agenda Overview: Panels, Connections & Competitions
Saturday, March 20, 2021
12:15PM EST – Summit Opens
12:30PM – 12:45PM EST Opening Session:
-Welcome: PlayStation, Grace Chen & McDonald's
-Introduction to Conference and WGG Summit Challenge (Corporate Partner)
-History of Women of Color in Esports (video)
-History of Women of Color in Gaming (video)
-Digital Prizes
-BCC Housekeeping – Survey, Assistance in Breakout Rooms, Chats
12:45PM – 1:00PM EST – Game Changer: Candid Conversation w/ Latoya Peterson, CXO and co-founder of Glow Up Games, the only black female owned gaming studio in the world. A 15 minute conversation and & Q&A of how she shattered this male dominated space.
Break: 1:00PM – 1:15PM EST 
1:15PM-2:45PM EST : Who Runs the World Presented by GameStop: Candid Conversations with successful women of color leaders & executives in Gaming & Esports
Speakers:
Theresa Herren (Moderator)
Shana T Bryant (Panelist)
Jay-Ann Lopez (Panelist)
Verta Maloney (Panelist)
Cristina Amaya (Panelist)
Kim Ellis (Panelist)
Break: 2:45PM – 3:00PM EST 
Breakout Session #1: 3:00PM- 4:00PM EST: The New STEM: Economics + Opportunities in Gaming & Esports Presented by Intel
Sound
Technology
Engineering (Software, Design & Product)
Media (Entertainment)
Speakers:
Moderator: Intel or Riot Games Angela Roseboro(TBD)
Elaine Gomez (Panelist)
Goksu Ugur (Panelist)
Jacqueline Beauchamp (Panelist)
Sabrina Wong (Panelist)
Breakout Session #2: 3:00PM- 4:00PM EST: Presented by Xbox Women in Gaming: "Working in the Sandbox: Careers in Gaming" Thinking about starting your career in video game development or transitioning from another career? Hear from experts across several disciplines about how they got started in game development and what opportunities exist today!
Speakers:
Moderator: Jennifer Lane
Karisma Williams (Panelist)
Ayannah Adegeye (Panelist)
Pepsy Martin-Wirth (Panelist)
Chanta King Ogletree (Panelist)
Christine Gutierrez (Panelist)
Women Got Game: Presented by PlayStation & GameStop
Date: Saturday, March 20th- Sunday, March 21st, 2021
Time: 12:30PM – 8:15PM EST (Sat.) & 2:00PM EST- 8:30PM EST (Sun.)
Theme: "Amplifying Our Game"
A two-day, virtual summit consisting of conversations, connections and competitions; introducing women college students of color to corporate partners & leaders of color in the gaming/esports industry. WGG is the first ever property of its kind, where successful
corporate executive and entrepreneur women of color educate, mentor & pay it forward to women college students of color interested in the gaming & esports industry. The summit
will take place during Women's History Month.
Objectives:
Equity: Conversations- Educating & Mentoring
Access: Connections- Dedicated time for mini-interviews for internships & job opportunities
in gaming & esports
Opportunity: Competition- Earn scholarships & prizes to assist with college expenses &
learning more about gaming & esports
Break: 4:00PM – 4:15PM EST 
4:15PM-5:15PM EST: Tech vs Everybody – Presented by PlayStation This panel will provide women of color college students and alumni with all the Intel and gems to make their resumes & interview skills Tech ready. The tech career search is not like any other industry.
Speakers:
Davina Mackey (Moderator)
Annabel Ashalley-Anthony (Panelist)
Sree Santhosh (Panelist)
Leslie Moore (Panelist)
Joye Nettles (Panelist)
Break: 5:15PM – 5:30PM EST (Explain Career Connections, speed rounds, reminders, surveys, chats)
5:30PM -7:00PM EST: Hitmarker Presents: Career Connections- Speed Rounds with potential employers and (10 min Connects)
Participants:
*Still pending
Break: 7:00PM – 7:15PM EST 
5:30PM -7:00PM EST:  The Career Networking Lounge:
Students can appear on video in 1 of 2 lounges to discuss career interests with industry
leaders.
7:15PM-8:15PM EST: Networking Meet-ups- Industry Mentoring Sessions in Virtual Breakouts
Session 1: Animation/ Graphic Design (Artists)
Session 2: Business Development (Proj. Mgmt., Brand Mgmt., Finance, Admin)
Session 3: Game Design
Session 4: Programming (Computer Engineering & Computer Programming)
Session 5: Marketing/Sales/HR
Day 1 Ends – Join us tomorrow at 2:00PM (EST) on Twitch: @BCGAUSA
Sunday, March 21 (via Twitch)
2:00PM-8:30PM EST: Competitions and WGG Highlights- Esports Tournament (Scholarships & Prizes)
2:00PM-3:00PM EST: WGG Highlights
3:00PM-8:00PM EST: Tournaments:
3:00PM-6:00PM EST: NBA 2k **Hosted by LA Sparks Brittney Sykes**
6:00PM-8:00PM EST: NASCAR Heat 5
8:00PM-8:30PM EST: Scholarship and Award Presentations (PlayStation, LA Sparks, NASCAR & BCGA)