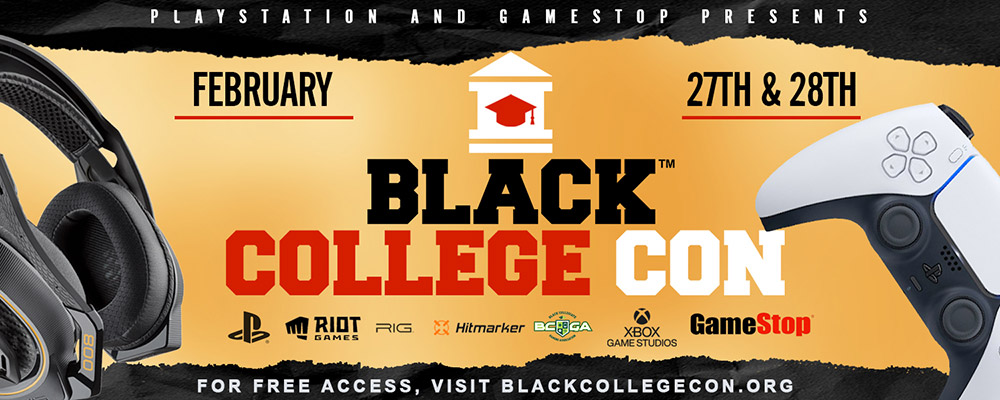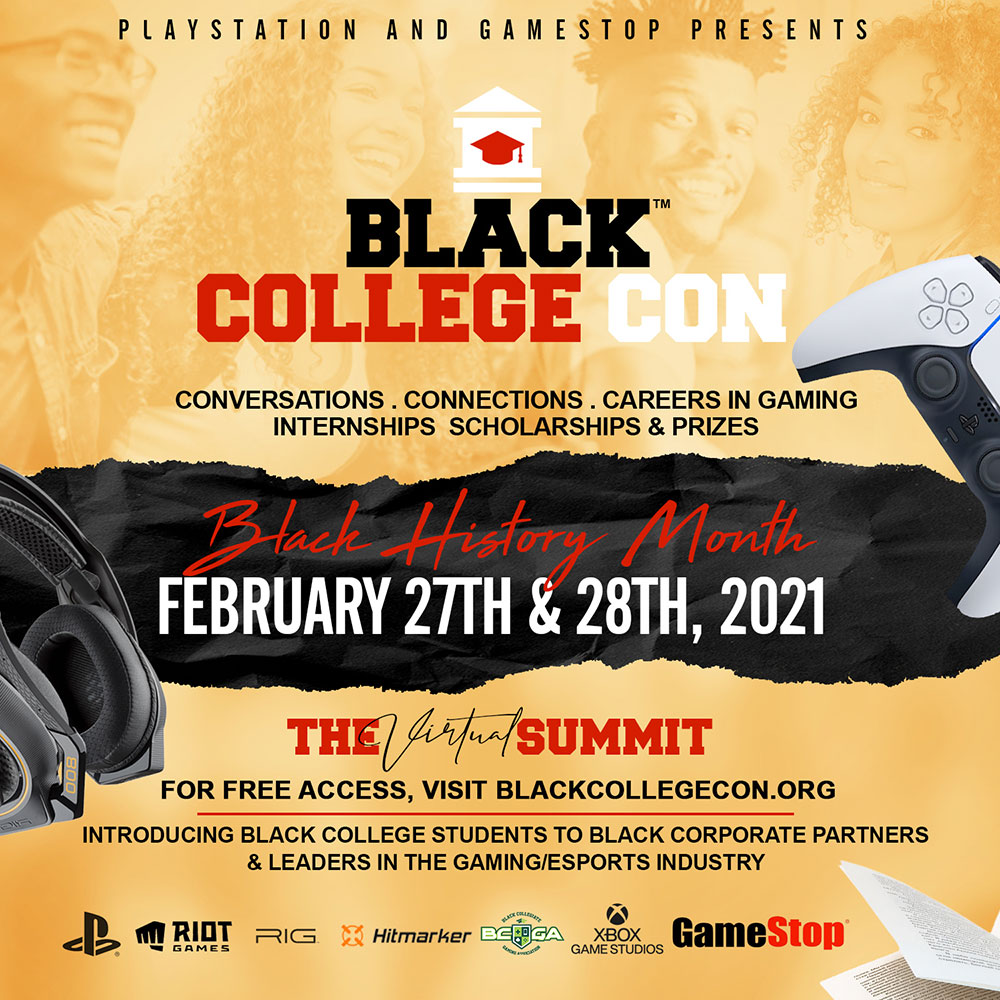 Agenda Overview: Panels, Connections & Competitions
Saturday, February 27, 2021
10:15AM- Summit Opens
10:30AM – 10:45 Opening Session:
– Welcome: Tiffany Hester – Sony/PlayStation
– Introduction to Conference and BCC Challenge, Dr. Marc Williams
– BCGA Advisory Board
– Black History in Gaming & Esports(Video)
– BCC Corporate Partner Recognition
– BCGA Advisory Board Recap
– BCC Advisory Committee Recognition
– BCC Power Circle Recognition
– BCC Housekeeping – Survey, Assistance in Breakout Rooms, Chats
– Summit Digital Contests & Prizes – Will be distributed throughout the day – Carl Varnado – BIG
Exec Director
Break: 11:00AM – 11:15AM
11:15AM-12:45PM: Black Gamers Matter presented by Riot Games: Candid Conversations with
successful Black leaders & executives in Gaming & Esports
Speakers:
Marcus Kennedy (Moderator)
Verta Maloney (Panelist)
Justin McBride (Panelist)
Chris Davis (Panelist)
Josh Parker (Panelist)
Alex Francois (Panelist)
Break: 12:45PM – 1:00PM
Breakout Session #1: 1:00PM- 2:00PM: Economics + Opportunities in Gaming & Esports presented
by GameStop
Speakers:
Eric Bright (Moderator)
Corey Rosemond (Panelist)
King Richard (Panelist)
Good Game Bro (Panelist)
Breakout Session #2: 1:00PM- 2:00PM: The New STEM Presented by BCGA
Sound
Technology
Engineering (Software, Design & Product)
Media (Entertainment)
Speakers:
Brandon Thompson (Moderator)
Kahlief Adams (Panelist)
Jacqueline Beauchamp (Panelist)
Travis Williams (Panelist)
Hip Hop Gamer (Panelist)
Breakout Session #3: 1:00PM- 2:00PM: Blacks @ Xbox Presents: Working in the Games Industry What You Really Need to Know- Join us for an opportunity to hear from black employees
working in Xbox. They will talk about their experiences at Xbox, what it's like to be a black
developer in the industry, and what work needs to be done to move the industry forward in terms of representation.
Black College Con (BCC)
Date: Saturday, February 27th- Sunday, February 28th, 2021
Start Time: 10:30AM EST- 6:15PM EST (Sat.) & 2:00PM EST- 8:30PM EST (Sun.)
Theme: "Unlimited Opportunity"
A two-day, virtual summit consisting of conversations, connections and competitions; introducing Black College students to Black corporate partners & entrepreneurs in the gaming/esports industry. BCC is the first ever property of its kind, where successful Black corporate executives and entrepreneurs educate, mentor & pay it forward to Black college students interested in the gaming & esports industry. The summit will take place during Black History Month.
Objectives:
Equity: Conversations- Educating & Mentoring from black executives representing the top Gaming corporations & entrepreneurs in the world.
Access: Connections- Dedicated time for mini-interviews for internships & job opportunities in gaming & esports
Opportunity: Competition- Earn scholarships & prizes to assist with college expenses & learning more about gaming & esports
Break: 2:00PM – 2:15PM
2:15PM-3:15PM: Tech vs Everybody presented by PlayStation – This panel will provide black
college students and alumni with all the Intel and gems to make their resumes & interview skills
Tech ready. The tech career search is not like any other industry.
Speakers:
Davina Mackey (Moderator)
Rasta La Vistah (Panelist)
Dr. Katryna Starks (Panelist)
Kojo Kumah (Panelist)
Break: 3:15PM – 3:30PM
3:30PM -5:00PM: Hitmarker Presents: Career Connections Opportunities Interview – Speed
Rounds with potential employers and (10 min Connects)
Break: 5:00PM – 5:15PM
5:15PM-6:15PM: Networking Meet-ups- Industry Job Mentoring Sessions in Mini Virtual Breakouts
Session 1: Animation/ Graphic Design (Artists)
Session 2: Business Development (Project Mgmt., Brand Mgmt., Finance, Admin)
Session 3: Game Design/Development
Session 4: Programming (Computer Engineering & Computer Programming)
Day 1 Ends – Join us tomorrow at 2:00PM (EST) on Twitch: @BCGAUSA
Sunday, March 21 (via Twitch)
2:00PM-8:30PM: Competitions and BCC Highlights- Esports Tournament (Scholarships & Prizes)
2:00PM-3:00PM: BCC Highlights
3:00PM-8:00PM: Tournaments:
3:00PM-6:00PM: NBA 2K
6:00PM-8:00PM: NASCAR Heat 5
8:00PM-8:30PM: Scholarship and Award Presentations (PlayStation, NASCAR & BCGA)